How to Select the Proper Railroad Track Pan System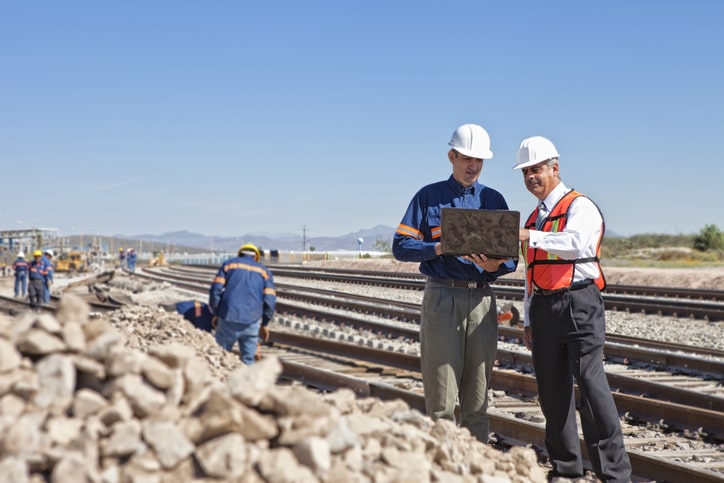 Track pans with a modular design are a safe and cost-effective solution for railcar spill containment. Railroad track pans help you avoid fines and costly, hazardous cleanups. When you're looking for the ideal railcar spill containment track pan, consider if your application requires a steel or fiberglass track pan.
Learn more about railroad spill containment, including benefits and drawbacks of fiberglass and steel track pans to ensure you are taking the necessary steps to protect people, property and the environment from unforeseen spills.
What Is Railcar Transloading Spill Containment?
Transloading is the process of transferring liquids from railcars to trucks and vice versa. Track pans are modular systems of pans and drains easily installed on existing or new railcar tracks to catch wastes such as spilled or leaking fuel, oils and greases and other pollutants. Track pans prevent pollutants from finding their way to sewers that lead to rivers and streams. They also serve as a secondary containment system in the event a tanker car experiences a catastrophic spill.
Fiberglass Track Pans
High-strength, chemically resistant fiberglass track pans provide excellent protection from all potential spills, leaks and overflows. Fiberglass track pans provide years of reliable service for railcar spill containment, chemical spill containment and more.
Fiberglass Track Pans Benefits
Lightweight for easy installation
Optional drainage manifolds below grade (no need to remove railroad ties)
Excellent resistance to most chemicals and temperatures
Standard 10' and 20' pan lengths reduce the number of drains and connections needed and eliminate potential leak points
Grating available to keep operators up and out of any potential spills
Modular "plug-and-play" design makes it easy to replace damaged sections
Continuous pan option without bulkhead fittings or end walls increases volume and decreases the number of drains
Optional, removable rain covers eliminate rainwater and other weather from the containment area
Multiple drainage diameter options available (4", 6" or 8") with as many or as few drainage manifolds as needed
No gaskets to eliminate gasket failure or separation
UV inhibitor protection to protect against cracking due to UV damage
Fiberglass Track Pans Drawbacks
Though it has high-strength properties, fiberglass by nature is not as durable or rigid as steel. Galvanized steel track pans provide a more rigid solution for heavy-duty, H-20 drive over loading applications than fiberglass track pans.
Applications for Fiberglass Track Pans
High-strength, corrosion-resistant fiberglass track pans can be used when you require:
Connected or independent track pans
Applications that require trimming to fit curved tracks
Specific chemical resistance to acids and caustics
Custom pan sizes (available upon request)
Galvanized Steel or Stainless Steel Track Pans
Steel track pans offer low maintenance, rugged secondary containment for railcars and tankers carrying hazardous liquid or fuel. Steel track pans fit tight against the rail and secure in place using special track pan fasteners and weldments.
Steel Track Pans Benefits
Hot-dip galvanized to prevent corrosion or stainless steel available
Durable and rigid
Can be made to withstand drive over, heavy-duty applications
Can be manufactured with fiberglass coating for upgraded chemical resistance
Grating available to keep operators up and out of any potential spills
Steel Track Pans Drawbacks
Steel track pans tend to be a more expensive form of secondary containment to produce than fiberglass track pans. If the track on which you are installing your pan is curved, a steel pan may be more difficult to install than a fiberglass pan because it is not as pliable. Consider if conductivity plays a role in your decision; steel may conduct electricity and heat in some situations.
Additionally, steel is heavier than fiberglass, making it more difficult to lift and leading to longer installation times. If your application requires significant trimming, flexibility during installation or added drainage, consider using a fiberglass track pan instead of a galvanized steel or stainless steel track pan.
Applications for Steel Track Pans
In addition to H-20 drive-over loading, galvanized steel or stainless steel track pans are frequently used in the event your application requires the most structurally durable pans.
Star Track® Railcar Spill Containment
Star Track is a modular, composite track pan system for containing incidental spills during railcar transloading operations. Our railcar spill containment system is available in fiberglass or galvanized steel, is easily installed using hand tools and is a sturdier alternative to drip pans.
Polystar Containment manufactures spill pans for railcars and locomotives in all applications. Our railcar containment track pan systems are SPCC and EPA compliant and can be used at railcar washing facilities, railroad tank car transloading areas, and locomotive fueling and maintenance stations.
Learn About Star Track
Stay Compliant with a Railroad Track Pan System from Polystar
Ensure you and your team adhere to current industry regulations by choosing the right track pan for spill prevention or secondary containment system. Contact us to learn more about Polystar Containment's track pan spill prevention options in fiberglass or galvanized steel or to request a custom size for your track pan.