Chemical and Hazmat Storage Buildings
Store caustic chemicals, paint, fertilizers, herbicides, pesticides, and additional EPA regulated hazardous materials in a non-combustible chemical storage building from Polystar.
Like any structure, strength and durability start with a quality foundation. While our competitors typically use a steel foundation, Polystar hazmat storage buildings use a sump foundation constructed with a heavy-duty I-beam. Our integrated sump foundation provides superior strength that is vital to hazmat storage buildings. Polystar uses an integrated sump to ensure that all potential spills are captured.
With over 20 years of experience, Polystar leads the industry in manufacturing secondary containment.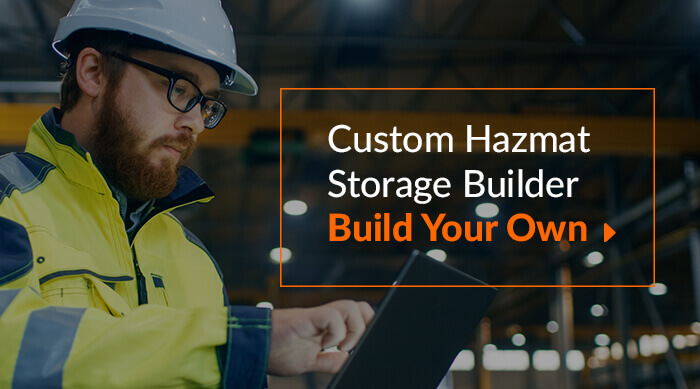 Quality design doesn't stop there. Some manufacturers cut costs by using a thinner gauge steel to weld their chemical storage buildings. Polystar uses 12-gauge steel to professionally hand-weld the remaining structure of our chemical containment structures. Additionally, we use a high-performance epoxy polyurethane system to reinforce buildings against outdoor elements.
Polystar chemically bonds this scientifically-advanced reinforcement product before applying it to the structure. Our exterior coating outperforms the typical epoxy or two-part epoxy polyurethane coatings found on other storage buildings. A chemically-resistant finish coats the interior of our storage buildings to ensure long-lasting durability. Customize any of our chemical storage buildings to fit your application with the addition of high-quality optional accessories.
Innovation, workmanship, durability, and dependability define our chemical and hazardous material storage buildings. Answer your hazmat storage needs with a containment solution from Polystar.
Hazmat Storage Building Standard Features
Leak-tight spill containment sump
High-performance epoxy/polyurethane-coated exterior
Chemically-resistant interior coating
Static grounding rod
Floor loading of 500 psf
Permanent anchoring with seismic restraints
Vents for natural ventilation
Three-point door latch with "L" handle for padlocks
Self-draining pitched roof for elemental protection
Forklift accessibility for easy relocation
Heavy-gauge steel welding for strength and durability
Optional Features for Polystar Storage Buildings
Lighting
Shelving
Mechanical ventilation
Sump drain
Removable fiberglass or galvanized steel grating
Variety of door sizes and configurations
Heavy-duty ramps
Two-hour fire rating
Polystar chemical and hazmat storage building capacity ranges from 9- to 33-drum. Use optional features to customize Polystar storage buildings to meet your specific needs.
Need to create a custom hazmat storage building? Learn how Polystar can help you design chemical storage building with our Custom Hazmat Storage Builder.